Public Safety Leadership Certificate Program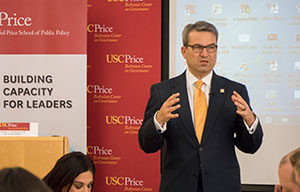 Public safety in the 21st century requires a holistic approach. Effective leadership and collaboration between public safety disciplines is essential to meet the complex challenges facing society today.
The Public Safety Leadership Certificate Program provides students with a solutions-centered approach to public safety by adopting a multidisciplinary and "whole-of-community" methodology.
The PSLP course is divided into four modules:
Leadership – Collaborative leadership, negotiation, ethics, conflict resolution, decision making, metrics, working with Millennials, implicit bias and crisis communication.
Global Threats – Terrorism, homegrown violent extremism, gangs, human trafficking, drug cartels, intelligence and hate crimes.
Technology – Cybersecurity and open-source intelligence, social media, cyber-crime, drones.
Community Engagement – Faith-based communities, mental health, homelessness, civil rights/liberties, special populations and outreach strategies.
---

Testimonial: "In law enforcement today, good leaders require innovative, creative and cutting-edge solutions to solve complex problems. The course of study in the PSLP provided me with the academic foundation, tools and resources to take on these challenges. Upon completing this program, I was able to present new approaches and methodologies to my officers that reduced recidivism, improved community engagement and helped to reduce crime." — Martin Figueroa, Parole Agent Supervisor, CA Department of Corrections and Rehabilitation
Testimonial: "The PSLP gave me deeper insight and discussions on implicit bias, racism, community relations, vulnerable populations and police misconduct. The experience has strongly driven me to do more charitable work with Asian-American NPOs, and it also reminded me of the reason I first became interested in law enforcement, to influence positive change within the field." — Sgt. Jason Chao, El Monte Police Department
---
Next Course Offering
Mandatory Orientation will be held on Wednesday, January 17, 2024 from 8:00 am – 12:00 pm
Spring 2024:
8:00 am – 5:00 pm (in-person only at USC's main campus.)
January 25 & 26
February 22 & 23
March 21 & 22
April 25 & 26
May 16 & 17
Deadline to apply: December 22, 2023
---
Admission Requirements
SCI invites applications from students with public safety backgrounds, including law enforcement, fire, EMS, health, social work, and education, as well as from local, state, and federal agencies. Admission is selective and based on professional achievement and organizational responsibility. Applying to this program requires completion of an online application. The cost to attend in person is $5,000 per student. The program fee covers tuition, parking, breakfast and materials.
Click here to apply. For questions, please e-mail [email protected].